December 11, 2018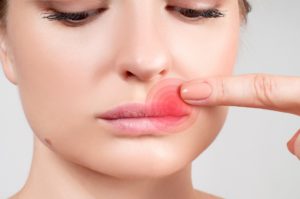 Cold and flu season is here. Besides a nagging cough or a stuffy nose, you may develop a cold sore. Although they usually heal on their own in a couple of weeks, they can be painful and unsightly. To speed the healing process, you may have tried a few over-the-counter products, but they did not give you the relief you need. As an alternative, you could enjoy the effectiveness of laser therapy in Inver Grove Heights.

What is a Cold Sore?
A cold sore, also known as a fever blister, is a fluid-filled sac that develops in a cluster on or near the lips. It is the result of the herpes simplex virus (HSV-1), which makes them contagious, even when they are no longer visible. After you have had one, you are more likely to develop them in the future. Although the virus remains inactive, they can be triggered by various factors, like stress, illness, sun exposure, or an injury.
How Can Laser Dentistry Help Me?
Lasers are not new in dentistry. They are routinely used to treat hard and soft tissues, like tooth decay or gum disease. Now, they are also used for treating cold sores, even before you see one appear.
The laser precisely targets the cold sore, leaving healthy tissue untouched. The highly-concentrated beam of light energy stimulates the growth of cells that are needed to heal wounds. This allows the size of the sore to decrease at a faster rate than that of home or over-the-counter remedies.
Besides a quicker healing time, you will also enjoy quick relief of your symptoms. Often, patients report feeling less pain immediately.
You can also help to prevent cold sores with the help of your dentist in Inver Grove Heights. Often, there are several warning signs that a cold sore may appear, such as a tingling sensation, fever, or sore throat. When the laser is used during the early warning stages, it can prevent it from progressing.
Enjoy Laser Dentistry Today!
Dental lasers are quite versatile. Besides treating cold sores, they can also help heal mouth ulcers. This is better known as a canker sore, which is a painful spot that develops in the mouth. The small, round ulcers often appear white or yellow in color with a red border. As with a cold sore, they will heal on their own but not without first causing pain and discomfort. A laser can help to speed the healing time, so you can get back to enjoying your favorite foods again quickly.
If over-the-counter products are not giving you the results you want, it is time to experience the difference with laser dentistry.
About Dr. Sheryl Tandon
Dr. Sheryl Tandon uses the latest advancements in dentistry to improve her patients' oral health and quality of life. She provides laser dentistry to provide effective treatments catering to your individual needs. If you have a cold sore or ulcer, Dr. Tandon can give you the relief you need. Contact Southridge Dental today to schedule an appointment.
Comments Off on Treat Cold Sores with Laser Therapy in Inver Grove Heights
No Comments
No comments yet.
RSS feed for comments on this post.
Sorry, the comment form is closed at this time.