Cosmetic Dentist in Inver Grove Heights
Create Your Perfect Smile
If you've ever thought twice about smiling because of a stain, chip, crack, or gap in your teeth, then that simply breaks our hearts. Thankfully, we can help you with the "magic" of cosmetic dentistry. Combining both science and art, Dr. Sheryl Tandon can help you eliminate any smile flaw you can imagine to give you a set of teeth you're always eager to show off. With the treatments outlined below, your only limit is your imagination. To start getting your dream smile today, contact us for an appointment.
Gum Recontouring / Crown Lengthening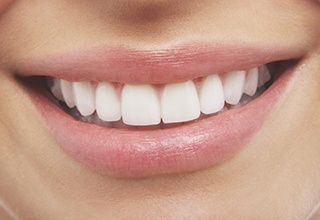 Do you have an uneven gum line that makes your smile look a little bit… "off"? Or, are your teeth overshadowed by your gumline, causing them to look short and stubby? If so, then Dr. Tandon can use her Solea Laser to give you that perfectly balanced look you desire. With the laser, she can painlessly reshape your gumline to create a gorgeous, well-proportioned smile. She can even use it to make room for a new dental crown or porcelain veneer. In any case, this can all be done with one simple appointment.
Teeth Whitening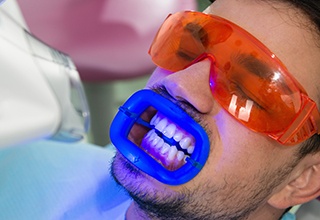 Want to make your smile up to eight shades whiter while you sit and relax at home? Now you can with Opalescence Go! We'll provide you with specially-designed mouth trays and a powerful bleaching gel that is much stronger than anything you can buy at the store. Simply use the tray with the gel for ten days, and you'll have a dramatically whiter smile! This is an excellent option for those whose teeth have been stained by coffee, wine, tobacco, or other darkly pigmented foods and drinks.
Invisalign®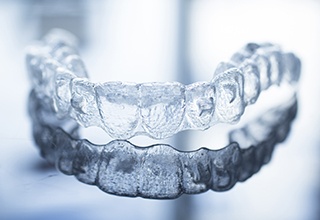 Have you always wanted to straighten your teeth but have avoided doing so because you didn't want to wear noticeable metal braces? If so, then Invisalign® is the answer you have been waiting for. Instead of brackets and wires, it uses a series of crystal-clear aligner trays to fix crooked, crowded, and gapped teeth in the most discreet way possible. The trays are practically invisible when worn, and when it's time to eat or brush your teeth, you can simply slip them off at your convenience.
Porcelain Veneers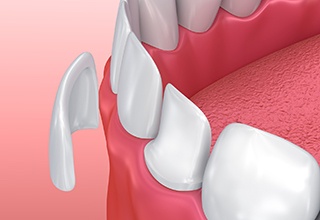 Porcelain veneers have been one of the most popular cosmetic treatments for decades, and that's because they are able to eliminate a wide variety of smile imperfections simultaneously, including:
Stains
Chips
Cracks
Gaps
Small or misshapen teeth
Slightly rotated teeth
These extremely thin porcelain shells are bonded to the front of the teeth to improve their appearance in every way imaginable. They are always custom-made, so they can give you anything from a small touch-up to a dramatic makeover in just two to three appointments.
Direct Bonding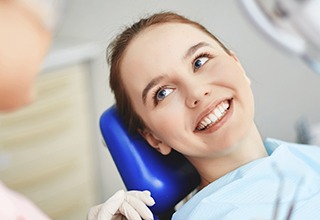 Sometimes, it's the smallest flaws that can affect your smile's appearance the most, right? If you have one pesky stain, chip, or gap that is bothering you, then we can quickly get rid of it with direct bonding. Dr. Tandon will apply a naturally-colored composite resin to your tooth to build up any damaged/missing enamel, and then she'll use it to literally sculpt your tooth to perfection. The entire treatment is quick and painless!