Laser Dentistry in Inver Grove Heights
Quick, Precise & Comfortable
Lasers were first introduced to dentistry around 1994, and now, they are one of the most useful tools dentists utilize every day. At Southridge Dental, Dr. Sheryl Tandon likes to use the Solea Laser to perform a wide variety of both restorative and cosmetic procedures with extreme precision. Treatment with the laser is usually so gentle that most patients don't even need local anesthesia to remain completely comfortable. It's just another way our office differentiates itself from others in an effort to provide you with the best possible care at every opportunity. To learn more about laser dentistry and how it could help your smile, contact us today.
Soft Tissue Laser Procedures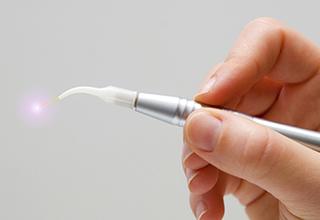 Our soft tissue laser is one that we use to treat parts of the mouth like the gums and tongue. With it, we're able to painlessly perform procedures that in the past required a scalpel and sutures. With it, we can instantly vaporize harmful bacteria located along the gum line, painlessly remove infected tissue, and even perform quick frenectomies for infants. It can also be used to treat canker sores, cold sores, and hematomas.
We can even use it to improve the appearance of the smile with easy gum recontouring procedures. Dr. Tandon can gently remove excess gum tissue to reveal beautiful, previously hidden dental structure to correct a "gummy" smile. From there, she can shape the gum line along the teeth to create the perfectly proportioned look we all desire. Not only is the treatment quite comfortable, but it can also be completed in just one appointment.
Hard Tissue Laser Procedures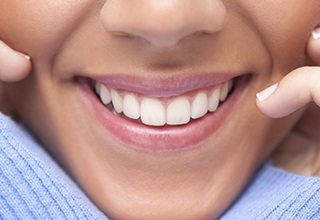 A hard tissue laser has a beam of light that is capable of cutting through teeth and the bones in the mouth, and while this might sound uncomfortable, it's actually the opposite. With this tool, Dr. Tandon can remove decay from a tooth and prepare it for a tooth colored restoration without having to use a needle like she would in the past. The laser creates very little heat, sound, or vibration, making the procedure a very easy experience for patients.
She can also use it to remove bone for crown lengthening. Crown lengthening is done when a cavity goes below your bone and some bone needs to be removed to restore a tooth to get properly sealed margins or for cosmetics. In the end, the laser provides quick and accurate treatment that is very comfortable during the appointment and much faster healing with greatly decreased post-op discomfort. Also it can save you time in the chair and possibly a whole appointment!