Dental Crown and Bridge – Inver Grove Heights, MN
Rebuild Your Smile with a Crown or Bridge
Despite several advancements in dentistry to preserve natural teeth for longer than before, damaged and missing teeth can still occur. When a tooth's health is compromised, your first instinct may be to have it pulled, but your dentist in Inver Grover Heights can save it with a dental crown. If it is too badly damaged, there may be no other viable options to save it. As a result, it may be best to have it removed. Whether due to an extraction, decay, disease, or an injury, Dr. Sheryl Tandon can replace your missing tooth with a bridge.
What is a Dental Crown?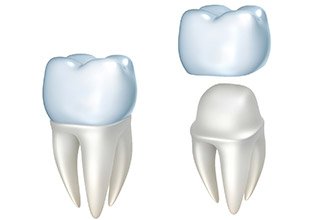 A dental crown is a custom-made cap placed over a tooth down to the gum line. It provides an added layer of protection to prevent further damage while also improving a tooth's structure, appearance, and function. They are most widely used in restorative dentistry to repair a tooth that has a large cavity, break, or fracture; however, they can also prevent a weakened tooth from breaking.
The use of all-ceramic materials now allows them to look like natural teeth. Now, they can also be used in cosmetic dentistry to cover a discolored or abnormally shaped tooth. It is common for them to be used in combination with other procedures, like root canal therapy, dental implants, or a bridge.
Dental crowns last for an average of 10 years before needing to be replaced if you care for them properly.
What is a Dental Bridge?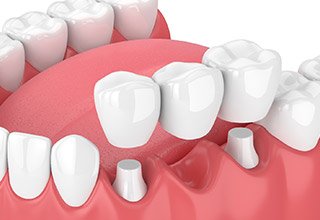 A dental bridge is the most convenient solution to replace 1 to 3 consecutive missing teeth. Prosthetic teeth are created to bridge the gap between those that are remaining. They are crafted to match the color, size, and shape of your natural teeth to blend in seamlessly when you smile. The bridge is held in place by reshaping the adjacent teeth to allow dental crowns fit over them. With the right aftercare, your bridge can last for about 5 years before needing to be replaced.
Am I a Candidate for a Dental Crown or Bridge?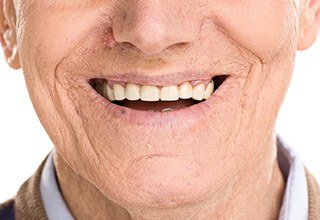 If you have a damaged tooth that is at risk of an extraction, a dental crown in Inver Grove Heights may be the solution for you. Dr. Tandon performs a comprehensive consultation to assess the health of your tooth to determine if the treatment is in your best interest.
If the tooth cannot be saved or you have previous missing teeth, she may decide that a bridge and crowns are the ideal treatment. She evaluates the health of your remaining teeth to ensure they are healthy enough to support the bridge.
Save Your Smile with a Crown or Bridge
No one is prepared to have damaged or missing teeth, but you do not need to let that hurt your oral health or functions. Dr. Tandon can rebuild your smile to improve your confidence and your quality of life with a crown or bridge.
If you are ready to save your smile, contact our office today to schedule an appointment.